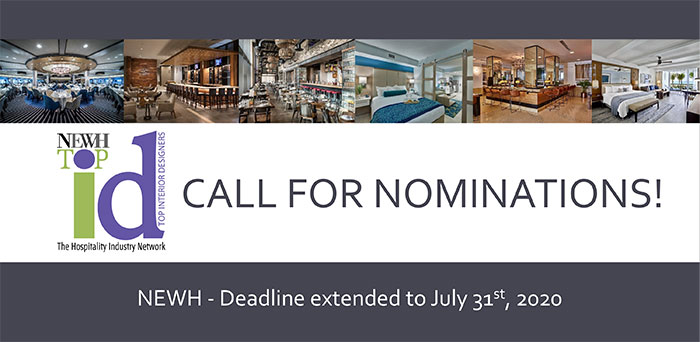 What is TOP ID?
RECOGNIZING DESIGN EXCELLENCE – The TopID award is a prestigious honor determined by NEWH chapter and regional boards to recognize and promote the best in our industry. A firm's quality design work in the hospitality industry, along with membership and support the firm has provided the NEWH chapter/region, is considered in the selection process. This exclusive recognition is NEWH's way of supporting and promoting our Designer membership. Not only are firms acknowledged by their local community as a leader in hospitality design, they are also celebrated internationally across the vast network of professionals in the industry!
How would your firm benefit from being name a TopID?
TopID firms will be asked to sign a consent form that allows NEWH to post their photography on the NEWH website for promotional purposes. They may also be contacted by media related to speaking opportunities, editorial comment and or participation in events as a highly‐respected design professional. They will be published in the ICON of Industry booklet that is distributed at the Gold Key Awards Ceremony in November during the BDNY Show held in New York City. By accepting the honor of NEWH TopID, NEWH will present the list on the NEWH website and at all international events they participate in with the intent of presenting the TopID firms as the "elite" and most exceptional design firms in the regions they are within. NEWH encourages members and industry professionals to utilize this list when in need of a design leader for their projects or expert advice within their companies or events.
Minimum Criteria ‐ required
Current Membership (one person within the firm must be a current voting member in good standing with NEWH)
Minimum of 3 hospitality projects completed within the 18‐month period prior to nomination (January 1, 2017 to June 30, 2018) with 150‐word written narrative describing each project
Projects submitted with the nomination must be professionally photographed (minimum 300 dpi resolution jpeg or
tif file format) – images will be acquired from the winning firms after TopIDs have been announced
Firm must have an accessible website