click on thumbnail to the right to view all pictures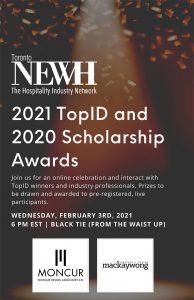 February 3, 2021 – NEWH/Toronto celebrated their 2021 TopID winners and their 2020 scholarship recipients. Click here to view the recorded event!
January 23, 2019 – NEWH/Toronto celebrated its 2018 and 2019 TopID recipients at its TopID Awards Gala. Attendees enjoyed networking among peers over hors d'oeuvres and cocktails.
October 3, 2018 – The NEWH Toronto Chapter hosted a Tradeshow and Let's Make a Splash Pool Party at Radisson Admiral Hotel. The event included a Hotel Tradeshow and Party by the Pool done in the Canadian Way Eh! All proceeds from this event benefitted NEWH's mission of scholarship and education.
July 10, 2018 – NEWH/Toronto held an "After Hours at Cheese Boutique" event. Attendees enjoyed a presentation from Owner and Maitre Fromager, Afrim Pristine, and an evening full of gastronomic indulgence while networking with our fabulous design community!
May 8, 2018 – NEWH/Toronto held an evening with PARTISANS, the studio behind hot-spot Bar Ravel, the revitalization of Ontario Place & Union Station, The Hang Gang Wishbone (Seoul), and Think Tank Office (Toronto). PARTISANS is an award-winning architecture studio that specializes in the integration of design and programming, technology and craftsmanship, invention and activation, in the service of a cause: high-performance design that strives to make the impossible probable. Co-founder Alex Josephson spoke about the studio's guiding principle – "beauty emerges when design misbehaves" – in the context of projects that re-imagine possibilities for hospitality, place-making, and city building.
November 21, 2017 – NEWH/Toronto held its 2017 Scholarship Awards event at PI Fine Art. Guests enjoyed networking with hospitality professionals and awarding well deserved students with NEWH scholarships!
May 31, 2017 – NEWH/Toronto held #trendingtoronto event at the Marriott Courtyard. Attendees enjoyed an evening of networking, room tours, and learned about what's hot in the industry.
March 7, 2017 – NEWH/Toronto held a 1 to 1 at The Maharaja – guests enjoyed a 3 course meal at the award-winning Maharaja, a luxurious boutique Indian restaurant, with premium access  to the industry's decision makers. Hemen Modi, principal of Design TWG, spoke about the design concept and execution of the Maharaja. Design TWG was awarded NEWH Top ID in 2017.
October 18, 2016 – Design a Chair Event was held at Mohawk/Durkan Showroom. Attendees enjoyed a night of wine and design, sponsored by Grand Rapids Chair and JF Fabrics.
September 21, 2016 – Networking event at Fring's – guests enjoyed networking with industry professionals.
August 24, 2016 – NEWH/Toronto 11th Annual Golf Tournament at Lionhead Golf and Conference Centre.
June 23, 2015 – Networking event at Nandos Etobicoke. Attendees received a free professional headshot and indulged in some delicious cuisine.
March 25th – 2014. Networking Event with wine and design – the first ever, "GET FRESH" Chair Design Competition. Attendees sketched and submitted original chair shell designs to an elite judging panel for a chance to win a pair of custom
chairs.
February 25, 2014. Networking Event at Amsterdam Brewhouse.
January 28, 2014 – Networking event at Ryerson School of Interior Design