Miss any of the La Pause European webinar series? click below to check them out!
NEWH European Webinars – La Pause
24 September 2020 – Hotels
15 October 2020 – Trade Fairs/Shows
19 November 2020 – Manufacturers
17 December 2020 – Designers
21 January 2021 – Sustainability in Hospitality
18 February 2021 – Biophilia in Design
18 March 2021 – The evolving cruise sector (apologies, no recording available)
22 April 2021 – Hotel Industry Perspective
20 May 2021 – Wellness & Spa
21 October 2021 – What's next
17th March 2023 – The XXVI Edition of the Mediterranean Tourism Exchange, the only large B2B tourism fair in the Mediterranean and the main spring event that opens the most important tourist season, is starting at the Mostra d'Oltremare exhibition center in Naples. 7 March at 11.30, the round table "The current and prospective challenges of hospitality. Innovation and sustainability" in Sala Tirreno PAD.6, with an introduction by Sergio Grazioli, Membership Director of NEWH Milano. Leading the debate, Prof. Francesco Antonio Scullica of the Milan Polytechnic and Scholarship Director of our association, together with Prof. Valentina Della Corte, coordinator of the degree course in Hospitality Management of the Federico II University of Naples.An excellent opportunity for discussion on topics that have always been dear to NEWH and for collaboration between two major Italian universities. read more on LinkedIn
14th March 2023 – The launch event of the contest #Lifestylehotel | Light Up your project by BWH Hotel Group Italia yesterday morning at the ADI Design Museum, with the members of the board of NEWH Milano, Marisa Corso, Francesco Antonio Scullica and the President Enrico G. Cleva as Protagonists of Design in the jury of the competition. read more on LinkedIn
10th March 2023 – First merit scholarship result of the collaboration between NEWH Milano and the Master Interior Design, managed by POLI.design in collaboration with SPD Scuola Politecnica di Design!! We announced the winning group composed of the talented: Alessandra Orengo, Alessia Nicastro, Anna Skoula, Elisa Pinna and Gianluca Travagliati.
Among the features taken into account by the Selection Board: feature; Technologies; environmental sustainability; Aesthetics of presentation; technical feasibility of the project attention to materialsThe students were awarded this afternoon, following the proclamation that involved all the students of the XIX edition.Congratulations guys! Not only to the winners but also to all participants! Read more: https://bit.ly/3mKFdV6
6-9 February 2023: Medelhan @Hospitaly Riva del Garda – NEWH Milano brought together the most important architecture studios, awarded with the TopID award, to discuss the future of hospitality and conscious design.The talk "The Italian excellence of hospitality on stage" in Riva del Garda brought together the prestigious interventions of 9 architects: ALBERTO APOSTOLI of Studio Apostoli, Marcello Ceccaroli of the Ceccaroli Architecture studio, Andrea Grassi of gla – genius loci architecture, Aldo Parisotto of Parisotto+Formenton Architetti, Marco Piva and Daniela Baldo of Studio Marco Piva, Andreas Profanter of noa* network of architecture, andre straja of GaS Studio, Andrea Viganó of Studio D73, moderated by the President of our association, Enrico G. Cleva.Thanks to all the participants and to the many spectators present! read more on  LinkedIn
14th December 2022 – It was a nice night on 14th of December for "Christmas Cuddles", getting together with associates and sharing special evenings like last night at the Imperialspa Wellness Center in Milan for a Christmas toast and lots of wellness cuddles! With members of NEWH Milano, also the Dottor Sorriso Onlus Foundation, which brings Smile Therapy for the youngest patients in Italian hospitals, and which for the occasion has created a small show with a fundraiser for the association's activities. Furthermore, the extraction of tickets with free treatments offered by the wellness center made three lucky guests even happier! Thanks to Imperial SPA for the warm welcome and to OGS Public Relations & Communication for the collaboration in organizing the evening.
24th November 2022 – In the amazing setting of Enterprise Hotel in Milan, the TopID 2023 Awards ceremony saw the Italian excellences in Hospitality design, walk the stage for its 3rd Edition coordinated by the careful direction of Gabriella del Signore, NEWH Programming with Stefano Risolè Hotel Director. Congratulations to all Winners GLA – Genius Loci Architettura, noa* network of architecture and Studio Marco Piva! The dinner party was also the occasion to celebrate the important growth both of the Milano Chapter and of the Scholarship Fundraising with all Members, friends, special guests and the students of the Master in Interior Design of Politecnico di Milano (managed by POLI.design in collaboration with SPD Scuola Politecnica di Design). Thanks to all the partners for making this event possible: AUGUSTO Contract – Foodservice General Contractor, Mirage Granito Ceramico S.p.A, Tarkett, HospitalityRiva and Loloey. A special thanks goes to Sofia Gioia Vedani Architect and Ceo of Planetaria Hotels for hosting the Ceremony by combining the art of Italian Hospitality through an exclusive design atmosphere with a highly professional and warm welcome. Click here to view the video!
25th July 2022: A great evening for our Chapter: many people at NEWH / Milan summer cocktail party, a lot of members and more and more new friends! It was fantastic being together in the prestigious location of Crowne Plaza Hotels & Resorts Melchiorre Gioia in Milan and meeting before the summer break. See you in September with new events and dates with Hospitality DNA.
24th June 2022: Happy Birthday NEWH Milano! Just 2 years but NEWH Milano is growing fast. Special guest at Grand Hotel Victoria Concept and Spa *****L for Celebration in Menaggio – Como Lake, Chris Tucker, President at NEWH, The Hospitality Network. (click here to see all photos)
3-4 May 2022 – NEWH/Milano at GUEST LAB – We were very proud and happy for had finally the opportunity of meeting all the board and the members at Palazzo delle Stelline in Milan! A lot of people dealing with or interested in the world of hospitality who had met together, to know each other and for business networking. Enrico G. Cleva, President of NEWH Milano, Francesco Antonio Scullica from Politecnico di Milano, Andreas Profanter from NOA, Gianpietro Sacchi and Alberto Zanetta, our partner of POLI.design" were top speakers during the meetings in the morning. (click here to see all photos)
25 November 2021 – NEWH/Milano 2022 TOP ID Awards: The Winners were Gasstudio , Studio D73, Ceccaroli Architettura.  (click here to see all photos) Click here to for the Facebook video
22 October 2021 Great NEWH/Milano Networking Cocktail last October at Raddisson Collection Hotel in Milan. NEWH/Milano presented to its members the best practices of hospitality and design world. (click here to see all photos)
23 September 2021 – NEWH/Milano @Guest Lab by Teamwork Hospitality (click here to see all photos)
NEWH/Milano 2021 TopID Award Winners (click thumbnail to see photos)
Studio alberto Apostoli
CaberlonCaroppi
Studio Marco Piva
June 24, 2021 – Milano's first in-person networking/membership event. NEWH/Milano Birthday. The first NEWH/Milano took place and it was a wonderful to finally meet friends and colleagues in-person after month of on-screen exchanges. (click here to see pictures)
Click on image to view video.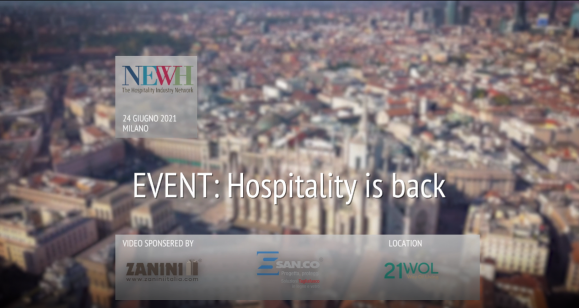 June 9, 2021 – Italy: Heritage, Design and Beauty; new ways of living (see also The most beautiful villages in Italy and Borgo Office – Smart working and farm supporting in an italian borgo)

Recognizing design excellence: the prestigious TopID award of NEWH for the best in the hospitality industry.
We are honored to award the prizes to Studio Marco Piva, CaberlonCaroppi ItalianTouchArchitects, Studio Apostoli

Check out the Video below!
Video sponsored by – Loloey – Resstende Srl – RH Contract

25 November 2020 – NEWH/Milano Alle Event
(click here to see all photos)
13 October 2020 Hospitality Day
(click here to see all photos)
1/2 October 2020 – NEWH/Milano Design City Event
(click here to see all photos)
July 2020 NEWH/Milano AREL Aperitive Event (click here to see all photos)
25 May 2020 NEWH/Milano Members Cocktail online!
NEWH Milano Chapter hosted Italy's first meeting online on 9th of April, 2020 with great audience and massive interactive engagement! Click here for a summary of the meeting
See meeting video below!
31 January 2020 Milan Chapter Founding!